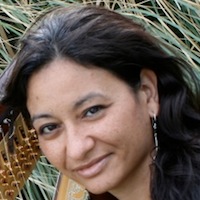 This is the time of year when many will cinch the laces on their new running shoes, finally put away the laundry that's been hiding the treadmill, and strap on their new fitbit. Many will start their new diet, or the more PC —but equally hard to keep— new relationship with food. Or maybe Monday. They'll start on Monday. All diets start on Monday. On Monday for sure.
A new year gives us a fresh start and no matter how cynical we are we can't help but be infected by that renewed sense of purpose and hope that comes with having to get used to writing a different number on those darn checks. Many of us have spent time no matter how informally taking inventory of all the blessings and accomplishments of the past year, as well as the things we would have liked to do better or ways we could be better.
Prayers and well-wishes given and received for the new year often revolve around health and prosperity. We want the new year to bring us blessings and abundance. I've done this too, but this year I turned to the 5th chapter of Matthew searching for blessings, so my resolution is to be poor.
I want to be poor in spirit, so I can inherit the kingdom of heaven. I want to be more aware of how poor and lacking the spirit I inherited from Adam is. I want to remember every day, that my spirit is wanting, and that it can only be perfected by the Spirit of God. I want to be aware of the poverty of my heart and that my only riches lie with my faith in Christ.
This year I want to mourn, so that I may receive comfort. Oh, there is so much to mourn, and maybe that is why I find myself numb to all of the things that should break my heart the way I know they break God's heart. I want to mourn the lostness of my unbeliever friends and unbelieving family members. I want to mourn the times I fail to yield to the Holy Spirit and compromise my witness. But I also want to mourn the godlessness and depravity that is overtaking our world, even as I know that it is a sign of the end of the age. I want to mourn our disregard for human life, the perversion of God's word that hypnotizes so many who sit in "churches". I have to remember that man's depravity breaks God's heart. As I am comforted in the knowledge that the end of this age leads to life in glory with the Lord, I want to mourn the knowledge that people who don't know the Lord are terrified by the chaos. A broken heart would compel me to share the gospel.
I want to be meek, that I may inherit the earth. This is so hard. We are brought up to be first, to be best. But I want to learn how to be meek. Meekness is so much more than false modesty, or even honest humility. The meekness we need is the humility that would lead the creator of the universe to leave His throne in heaven to come suffer like us, and for us. The humility of the one who stooped down to wash the feet of his disciples while they argued with one another over which of them was better than the other. The meekness that would lead Jesus to let Himself be flogged and crucified even while He had the power and the right to destroy the earth in judgment to avoid the pain. The rightful Heir of literally everything was meekest of all. Yet I find myself wanting to have my way so much of the time. I have to learn to leave my high horse to empathize with others. I have to learn to do dirty work that shows love, even if the people I am serving are oblivious to my gesture. I need to make myself last for the sake of others and suffer pain and indignation for the sake of testifying to the Kingdom. I have to trust that there is a sovereign Witness to my meekness who is keeping an eternal record, and who can see my heart.
I want to be hungry and thirsty. I want to hunger and thirst for righteousness, so that I may be filled. And while this is very explicitly a figurative hunger and thirst, I can't help but think that we are no longer capable of these feelings. In our culture of excess and over-abundance, when was the last time any of us was truly hungry, or thirsty? Food and drink are ever at hand, keeping us in a state of blissful satiety at best, and at worst enabling some of us to obesity or drunkenness. If we never feel physical hunger and thirst, how can we hunger and thirst for righteousness? Jesus doesn't say should "desire" righteousness. Desiring something sort of sounds like you're okay, but it would be really nice to have "x". Hunger and thirst means your whole being is consumed with the need (not the desire) for righteousness. It means your being needs righteousness the way your body needs food and water to survive. So this year I want to feel physical hunger and thirst, that I may know how to hunger and thirst for righteousness. And I want to hunger and thirst for righteousness that I may understand that only the righteousness of Christ can satisfy me.
I want to be merciful, so that I may be shown mercy. Oh, I really need help here. I am so quick to flick the speck off my brother's eye, as I struggle to blink over the plank in my own eye. Do I not understand the mercy and forbearance the Lord has to show me, even as I write this? I pray that I will be better at showing mercy, so I can understand and appreciate better the depth of grace in the fact that God delayed His judgment of my sin so that I could come to faith in His Son and be called His child.
I want to be pure in heart, so that I may see God. See God? We serve a God we cannot see. As a believer I have assurance I will eventually see God when I get to heaven. But how can a pure heart allow me to see God? If I purify my heart and purge it of its selfish desires I can give way for God to reveal Himself. If my heart is pure, then my prayers will fall in line with God's will. If my heart is pure I can see God expressed in creation. I can see God in my daily provision. I can see God in His statutes. With a pure heart I can begin to trust God's vision. He can see everything so much more clearly. "Truly, God does not see what man sees, for man looks at the outward appearance, but the LORD sees the heart." (1 Sam. 16:7) God sees my heart, no matter how polished I try to appear on the outside.
I want to be a peacemaker, so I can be called a child of God. I am thankful that my personality is naturally averse to conflict. But the lack of conflict is not synonymous with peace. Sometimes confrontation is what is needed to settle matters. I tend to be more confrontational in my comfort zone. It's so easy to pick petty fights with my children and my husband. I've noticed that sometimes even if I don't pick a fight with others overtly, I can carry and nice grudge against them in my head. I can do this for a long time. All of that behavior is unworthy of a child of God. I must learn to be a peacemaker, so I can bear His name.
I want to be persecuted, so that the Kingdom of heaven will be mine. I want to suffer insult and slander for the sake of Christ, so that I may receive my reward in heaven. We are living a time of growing hostility toward the Christian faith. Jesus promises reward in heaven for every time we suffer for His sake. As one who feels a tug to go to battle to defend the honor of his country I find myself wanting my faith to be tested, to face the challenge of choosing between faith or lose a friendship, faith or risk my reputation, faith or lose my job, faith or lose my life? Am I ready? How would I fare? Would I stand fast, or am I reflecting the spirit of Peter before the crucifixion? How do I perform daily when the stakes are not so high? Do I give God the glory in the little things? Do I take a stand for God when it won't really cost me much. I pray to God for the strength to stand up for His word and His statutes daily.
So this year I want to be less. I want to be a LOT less. I want to be less so He can be more in me. I want to have less, so I can realize how rich I am in having Him. I want to do less, so that I can let Him be the one doing in, for and through me.
Matthew 5: 1-12
Now when Jesus saw the crowds, he went up on a mountainside and sat down. His disciples came to him, 2 and he began to teach them.
He said:
"Blessed are the poor in spirit,
for theirs is the kingdom of heaven.
Blessed are those who mourn,
for they will be comforted.
Blessed are the meek,
for they will inherit the earth.
Blessed are those who hunger and thirst for righteousness,
for they will be filled.
Blessed are the merciful,
for they will be shown mercy.
Blessed are the pure in heart,
for they will see God.
Blessed are the peacemakers,
for they will be called children of God.
Blessed are those who are persecuted because of righteousness,
for theirs is the kingdom of heaven.
"Blessed are you when people insult you, persecute you and falsely say all kinds of evil against you because of me. 12 Rejoice and be glad, because great is your reward in heaven, for in the same way they persecuted the prophets who were before you.