Devotional
Singing Slightly Off-Key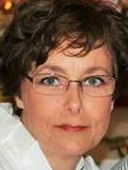 ~~The "Directional Leader" of my church used to be a worship leader. He has the most heavenly voice that God ever ushered forth from a human being. Truly. I could listen to him and do nothing else until Jesus comes again and I'm quite sure I would be completely fulfilled going into eternity. Because we have rotating teaching pastors and worship leaders in my church, he sometimes leads our worship time. Today was that day and I wanted to just shush everyone in the auditorium and say, "Let him sing!" especially when the lady behind me opened her mouth to contribute her best effort at carrying a tune.

There I was caught between the echoes of heaven and, well, like I said, her best effort. 'Really', I tried to convince myself, 'she's only slightly off key'. And then came that familiar voice, which asked, "Kind of like your worship, Melissa?"
Uh huh. Kind of like that.
I won't presume that this applies to anyone but me, but just in case you can relate, here's what happens to me on a Sunday morning. I get up like always and try to decide what to wear that will make just the right impression – like I didn't try too hard, but I'm just naturally this stylish every day. (You hear the sarcasm, right?) Then I saunter into church comparing how I did with how everyone else did. I have to sit in a row close to the front because I am easily distracted by the iPhones alight around me, the girl playing with her hair, the man jingling his change, the hipster casually sipping his Starbucks. I stand singing with the rest of the congregation wondering if anyone has noticed that I don't need to look at the jumbo-tron to see the words – I got this. I may close my eyes if I feel especially moved, but then begin to wonder if anyone thinks I've gone to sleep, especially when they have to nudge me to take the offering plate. I take notes during the sermon and angle my bible just right so that the guy next to me can see how studious I am by how marked up my book is. And when I leave church I am piously, quietly considering the message while others chit-chat about their lunch dates as if nothing at all has just transpired.
Blessed assurance! This is worship? Well, maybe it's worship slightly off key. If I am gentle with myself and honest with you I have to admit that although all these things are true (you can judge me later…focus for a minute) my heart for the Lord is also just as true. I love worship time. I love the Lord. I love to praise Him and lift my hands to Him, offering all that I have and all that I am. I love to learn, and to know Him better and to be better equipped to serve Him because of having been in His house. I just lack the ability to do any of that without self-awareness for any length of time. Before you know it, my mind is recalled from the throne of glory to the mirror of my mind's eye and I'm thinking about me again. (Or drafting this article in my head.) Back and forth I go, without the discipline to maintain concentrated attention where it belongs: on my Savior. The desire is there, but my effort is slightly skewed and it rings discordant with His song. I'm just slightly off key.
This malady carries over to every part of a Christian life if we are not careful. We drop the oh-so-casual comment about serving the blind, lame, and homeless on Thanksgiving Day, having eschewed our own creature comforts. Or we compare Samaritan Purse boxes…how many, how much, and what exactly went in. We happen to mention our unavailability on any given Wednesday morning because we are committed to our Bible study. We stretch a yawn into an explanation of how early we rose that day to meet the Lord. Or we exalt in our evangelism efforts and successes on our FB feed: which mission trip we're saving for, or how many we've been on and how many spring breaks we've given up to serve the poor. They're just a casual reminder to others that we're doing alright. Now, there is certainly nothing wrong with working, serving, sacrificing, giving, studying, or evangelizing, but it's the need to prove something to someone that makes it like singing slightly off key. It's grating and dissonant. It's slightly embarrassing for the people around us. It ruins the effect of the song and robs the audience (of One!) of pleasure.
There I stood today, singing quite well, thank you very much and yet striking an ugly chord. And there she was, the lady behind me, singing in shocking dissonance but with effortless self-abandon to sincere worship that was a lovely offering to the Lord. I ask you, which of us was making a joyful noise and which was signing slightly off key? Something to think about as we go through our day humming that worship chorus and wondering who might recognize the tune.